What a year! 
2019 was many things, but for us it will always be the year we started Team Golden Triangle Bike.  Here's a recap of how we got started and all the great riding we did in 2019. I'd also like to give a big shoutout to all of our 2019 sponsors: Golden Triangle Bike, Rivers of Steel, Brad Trust/Edgar Snyder and Associates, Maggie's Farm Rum, Gasoline Street Coffee, 3 Rivers Outdoor Company, Spirit Hall, East End Brewing Co., and Daniel Gurwin Design!
And kits by Giordana Custom!
And so it begins…
In over a decade of business, Golden Triangle Bike had never had a shop team, and my previous shop team had essentially fizzled out.  I missed the camaraderie and support of a team, and felt that our shop could benefit from the promotion only a racing team can provide. The time was right to start something new, but where to start?  The first step would be to put the call out for riders on social media, and see who was interested. I knew I could depend on my fellow staff to ride for us, but I didn't know who else to expect. Our shop was definitely not (or not yet) established in the world of elite bike racing, but we did have a specialty:  providing fun and memorable experiences for our customers around the country. Would this be enough to entice people to ride for us? To my great surprise, many riders contacted me about joining the squad and helped recruit many others.   
We had some dedicated riders, but our team vision was still amorphous at this point. We had riders planning to take on the weekly criterium (multiple lap) races at The Bud Harris Cycling Track, but also the region's burgeoning gravel events, road races, mountain bike races, cyclocross races, and even triathlons.  I summed up our multidisciplinary approach as "Good People Doing Hard Things on Their Bikes." Our goal was participation, having fun, and making a name for ourselves, the results would come in due time. 

Kits and Sponsors
A team's got to have a uniform, and the cycling uniform (like Soccer's) is called a kit.  As anyone who has purchased quality cycling gear will tell you, the kit is not cheap, hence sponsors to help cover expenses.  We asked around to find the best quality kits for our riders, and landed upon Giordana Cycling Apparel.  Our friends at Opus One Velo had great experience using them, so we figured we'd bite some of their style. Our teammate Danny, a well-renowned designer, generously offered to design the kits. The staff at Giordana were very helpful as well and sent us sizing samples of their Vero Pro line of jerseys and shorts. Team GTB's inaugural meeting would involve eating pizza and trying on the kit samples in my house.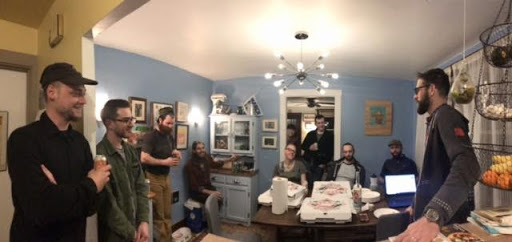 Where it all began- with pizza in my cramped dining room
Next was the tricky part- finding sponsors!  Considering we've never had a team before, we had no results or even photos to show for ourselves.  We asked our sponsors to take a leap of faith with us and get in on the ground floor. We reached out to some of Golden Triangle Bike's old friends and partners as well as some others who shared our goals of promoting cycling and outdoor activities.  Thankfully, the generosity of our sponsors far exceeded our expectations. Rivers of Steel, Brad Trust & Edgar Snyder and Associates, Gasoline Street Coffee, and Maggie's Farm Rum provided some much needed funds. We also got some delicious beer from East End Brewing Co. and rum drinks from Maggie's Farm for team social events.  3 Rivers Outdoor Co. provided us a launch pad for bimonthly mountain bike rides from their awesome shop in Regent Square, and Spirit Hall provided us pizza and drinks for a team happy hour later in the season.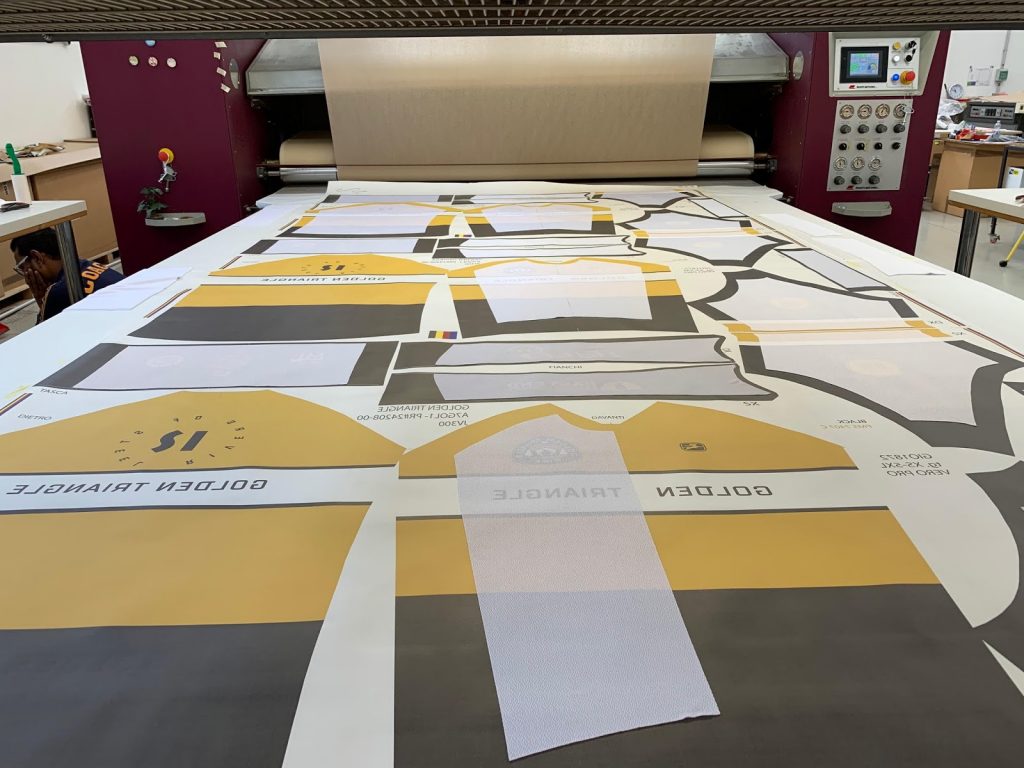 Team GTB Jerseys hot off the presses in Italy!  
Off to the Races!
With sponsors signed on and Danny's fresh kit designs sent to Giordana, we now had to wait for our gear to appear. Although Shawn and Pat had already begun racing the weekly crits at The Bud Harris Cycling Track AKA "The Oval," our big debut with the new kits would be June's tenth anniversary of The Hillybilly Roubaix in Morgantown,WV.  Our kits showed up just in time for Jen, Jeremiah, Connor, and Dave to rock them at the starting line!  Our squad took on this infamous gravel event in style with everyone conquering the course! We immediately received great feedback from other riders for our squad's good looks,  good riding, and positive attitude! We were off to a great start!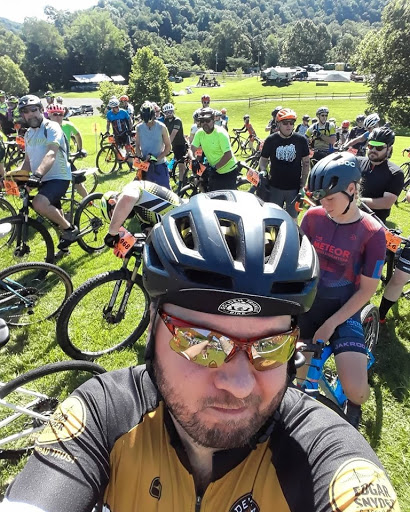 Dave, so fresh and so clean clean at the Hillybilly Roubaix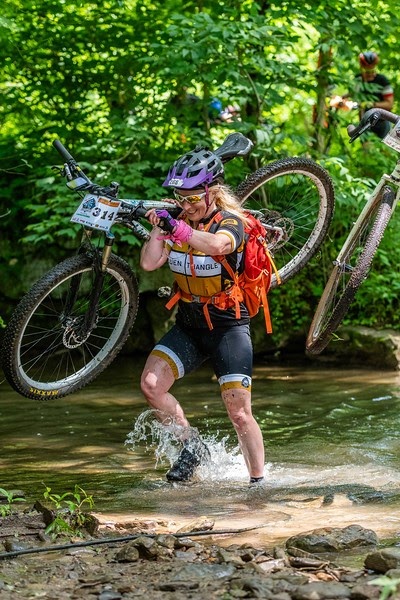 Dave and Jen ford the river at The Hillybilly Roubaix!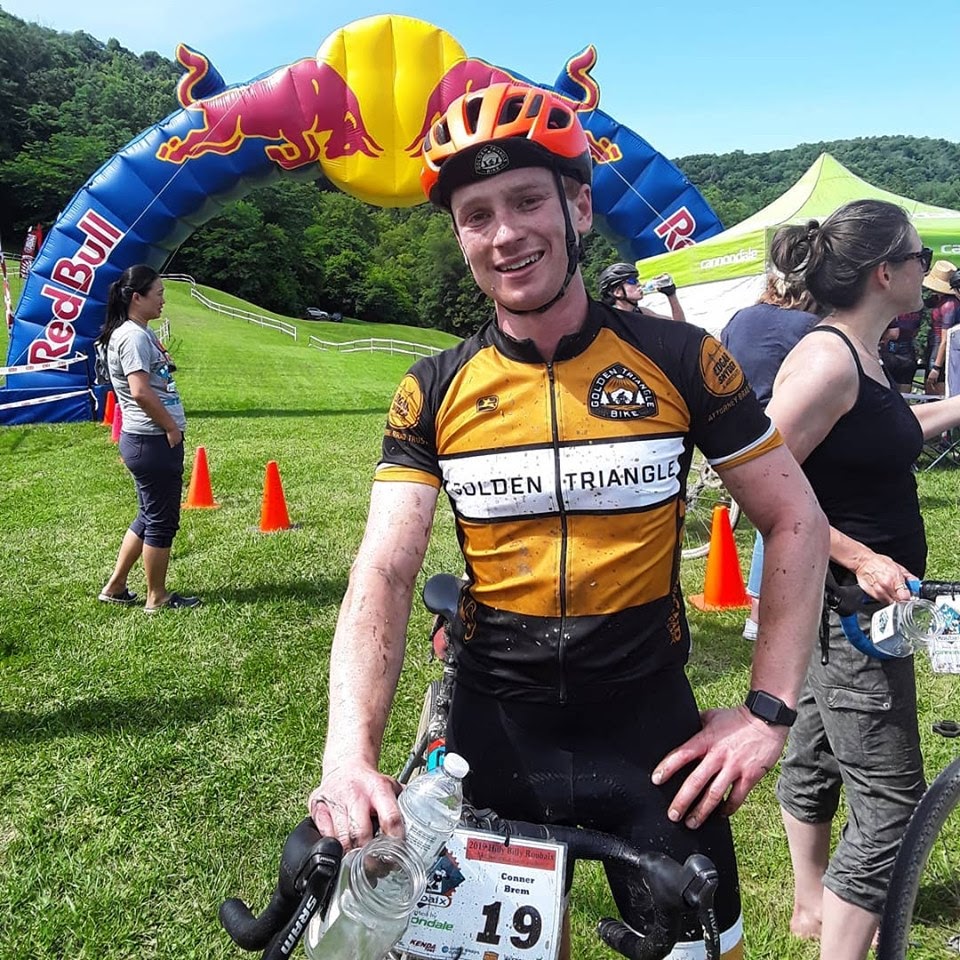 Connor strong to the finish at The Hillybilly Roubaix
In July, Connor, Bryan, Bill, and I took on the legendary Gravel Race Up Spruce Knob (GRUSK) with Connor breaking into the top twenty and Bill getting a third place in the single-speed category.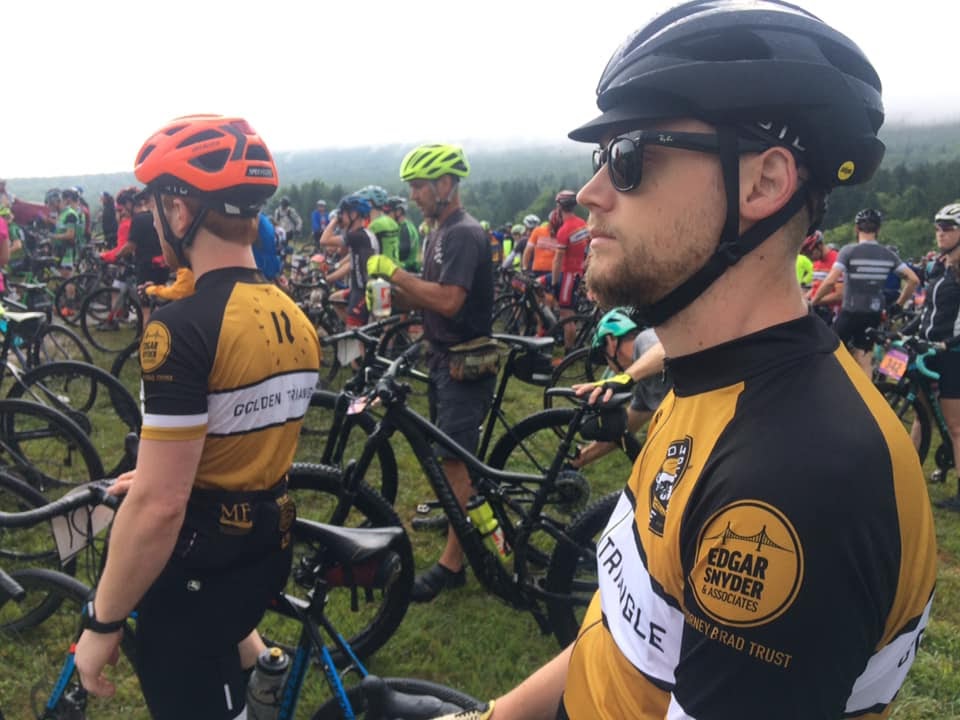 Connor and Bry, game face at GRUSK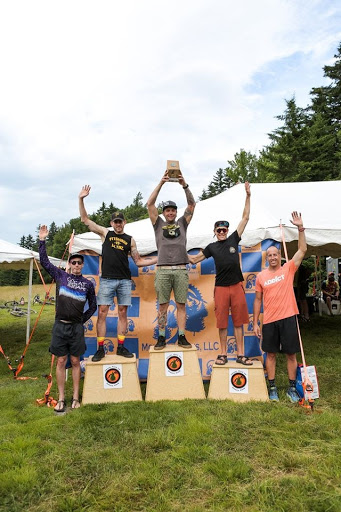 Bill (second from right) gets on the GRUSK single speed podium in his first foray for Team GTB
July and August saw weekly racing at The Oval with Bry joining in the action.  GTB staff and teammates also led weekly mixed surface and mountain bike rides sharing our positive vibes with riders throughout the region.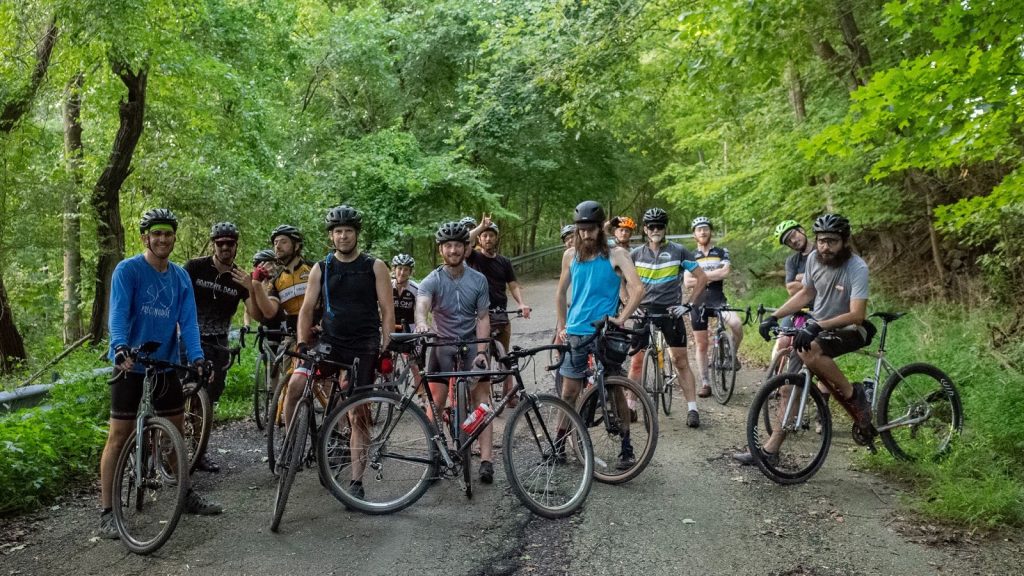 GTB Mixed Surface Ride reporting from deep in the heart of Pittsburgh's Northside.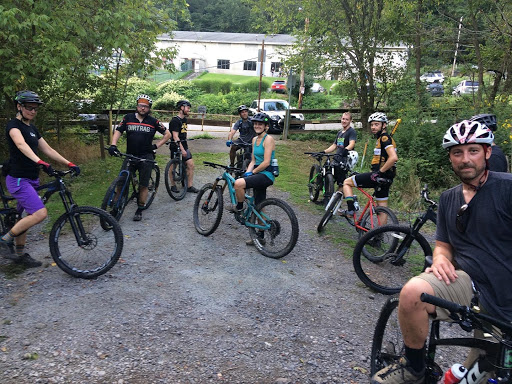 Golden Triangle Bike owner Tom (foreground) and a stacked deck of riders attend one of our bimonthly Frick Park rides.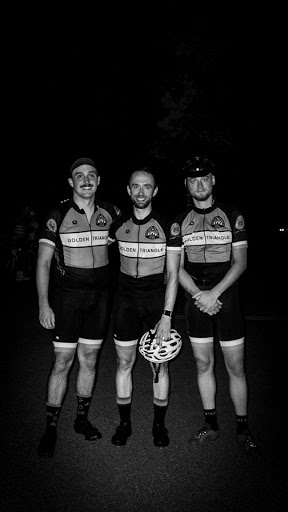 The Crit Squad: Pat, Shawn, and Bry
Fall saw the beginning of Cyclocross season with Ted and Shawn attending weekly 'cross practice and taking on local races in the WPCX series.  In September, Connor, Ted, and Natalie took on the insanely tough Quick and the Dead Gravel Grinder up Mt. Davis, the highest point in PA.  Connor and his partner Natalie took fifth and fourth in their respective races.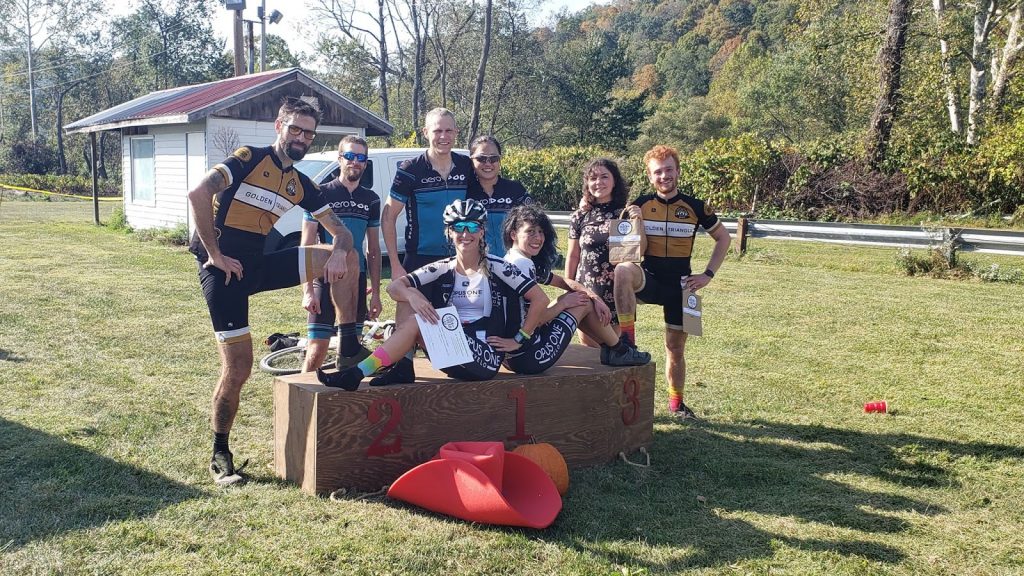 Team GTB and friends from Team AeroDog and Opus One Velo, "on the coffin not in the coffin" at Quick and the Dead!
September also saw Nick take on Keystone Gravel in, the inaccurately named, Jersey Shore,PA. Meanwhile, Ted,Connor,Shawn,and George also raced the challenging Riverview CX in Pittsburgh. Kelli took on the Public Lands Ride and The West Penn Trail Triathlon.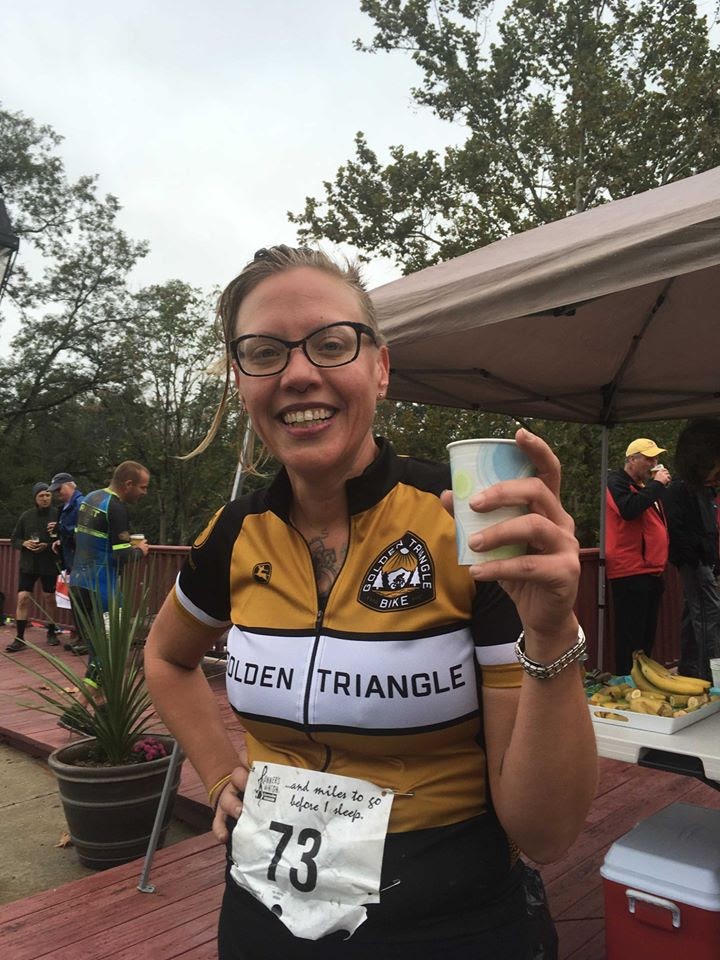 Kelli basks in glory at The West Penn Triathlon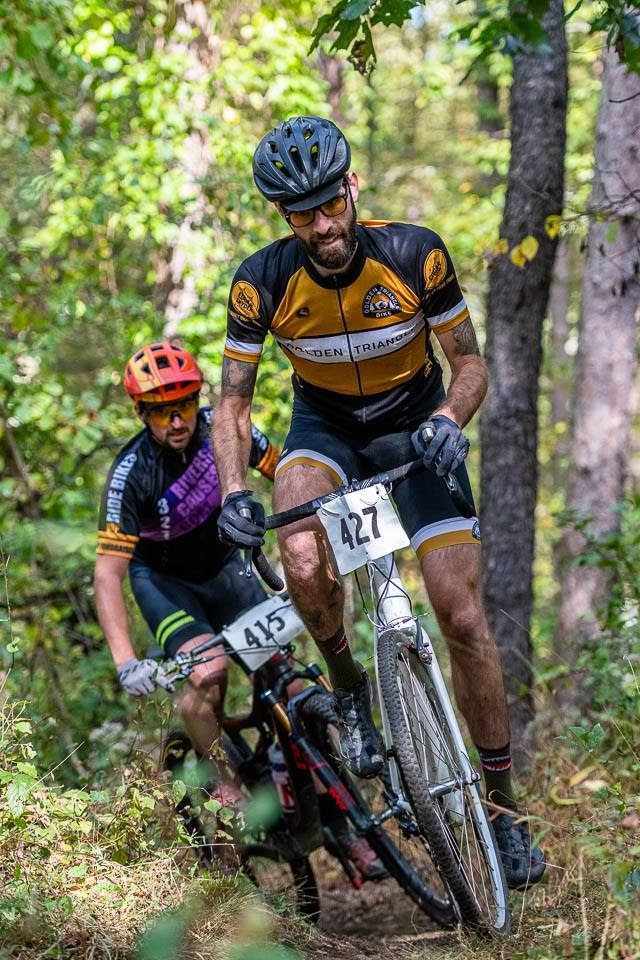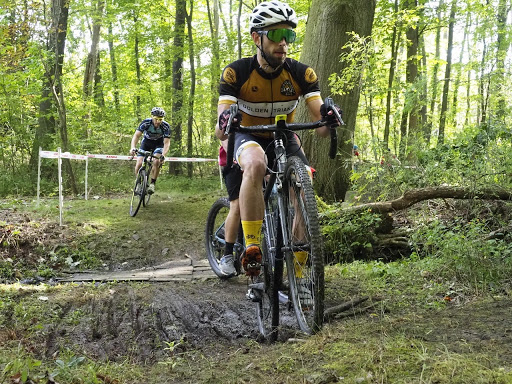 Ted and Shawn take on Cyclocross at North Park and Slippery Rock
In October, the team was very busy with the WPCX Cyclocross series, The Month of Mud (M.O.M.) mountain bike series, and, the newly rescheduled, Dirty Dozen hill climb race. Heavy hitter Jen took on three Month of Mud mountain bike races as well as The Dirty Dozen.  She even finished fifth overall for the M.O.M. women's master's series. Connor and Shawn took on the competitive heat in the Dirty Dozen with Connor scoring a fourth place! Ted,Bry,Pat, and Rob took on the Dirty Dozen in the club group with everyone completing the ride.  Jeremiah took on The Dirty Dozen on a tandem, but couldn't complete due to technical difficulties- you'll get em next time!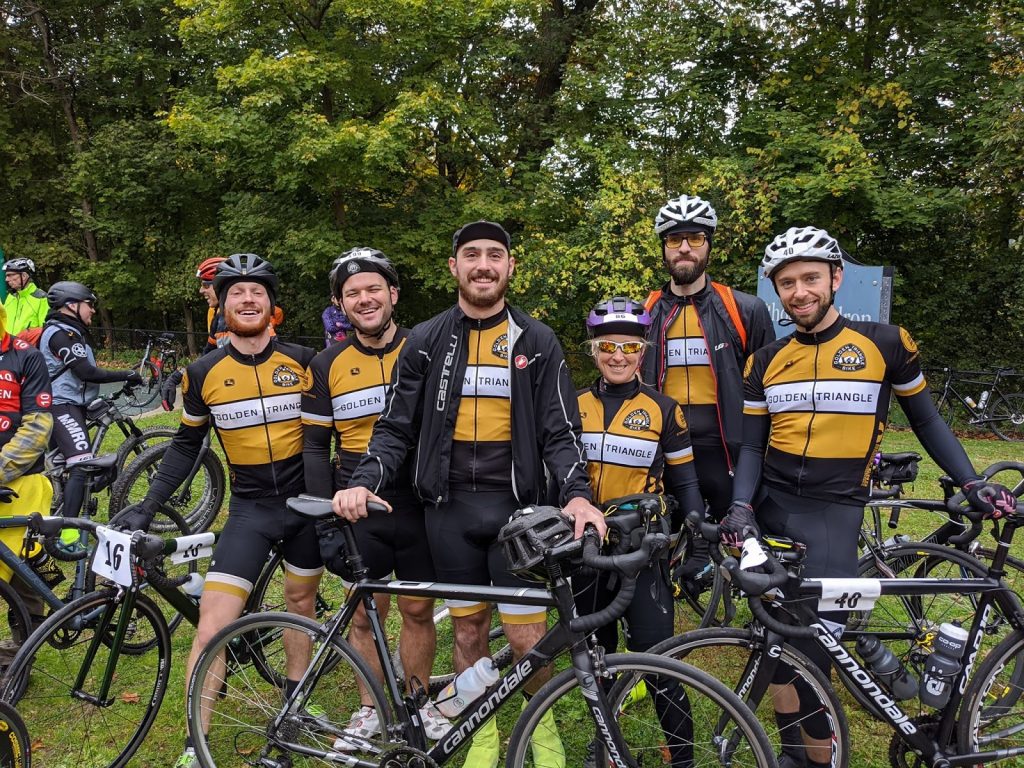 Team GTB Dirty Dozen Squad at the start.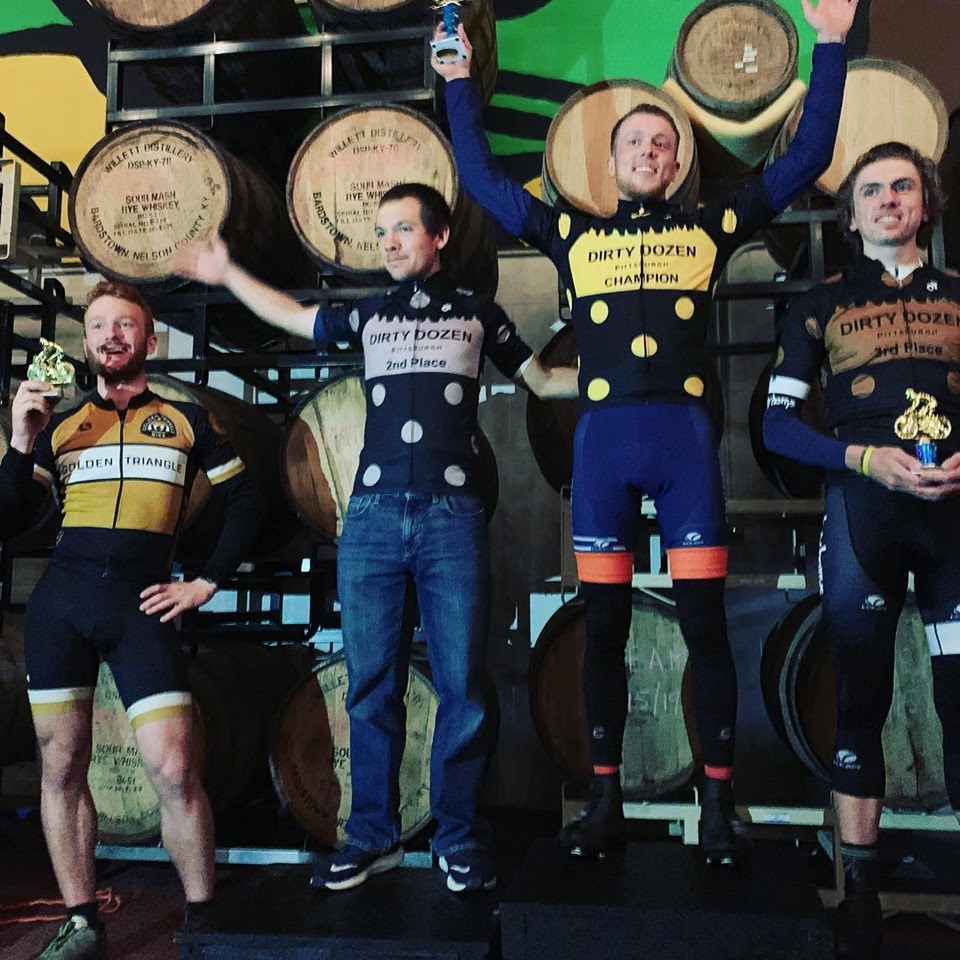 Connor on The Dirty Dozen podium at East End Brewing Co.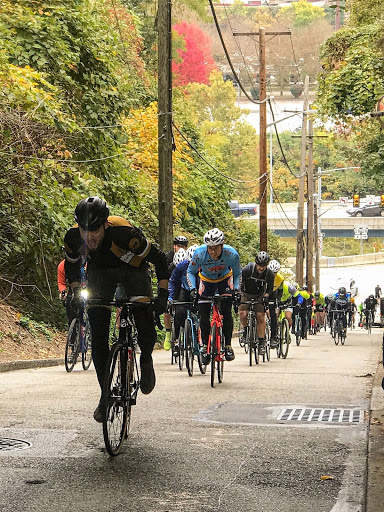 Bry leads the charge up Rialto street in the club heat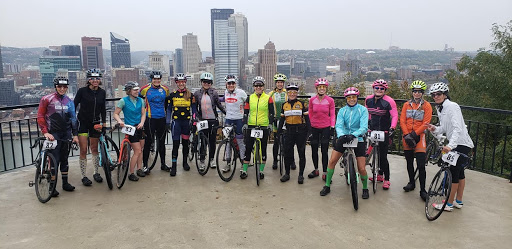 Jen with The Dirty Dozen women's competition
November saw Ted taking third place at the Philadelphia Dirty Dozen prior to checking out the phenomenal Philly Bike Expo. Rob and Connor took on Wheeling's Just Another Dirty Dozen and Shawn and Ted finished out the WPCX series in the mud of Butler,PA.  Shawn finished second overall in the cat 4 /5 series after months of hard racing!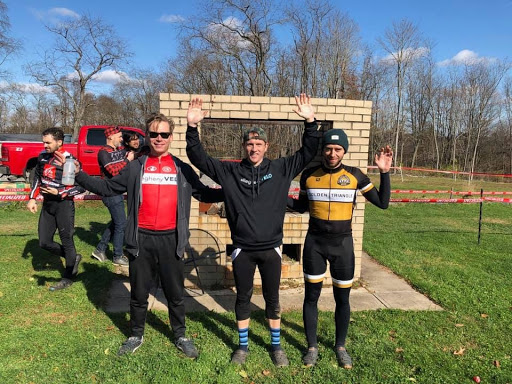 Shawn pulls in the second place for the WPCX 4/ 5 Cyclocross Series
December brought some much needed rest and relaxation, but not too much as Team GTB is already preparing to hit 2020 at full-speed!  If you are interested in sponsoring our team in the new year, please feel free to contact us!

Thanks again to all our great 2019 sponsors: 
Golden Triangle Bike, Rivers of Steel, Brad Trust/Edgar Snyder and Associates, Maggie's Farm Rum, Gasoline Street Coffee, 3 Rivers Outdoor Company, Spirit Hall, East End Brewing Co., and Daniel Gurwin Design!
And kits by Giordana Custom!